Talents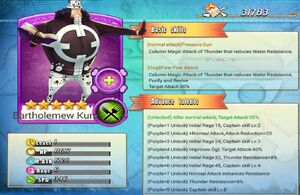 Talents:

+0
Normal attack -20% Target attack
+1
Initial Rage 15, Captain skill Lv.2
+2
Normal attack -20% Target attack reduction
+3
Initial Rage 24, Captain skill Lv.3
+4
Increased Ogi, -60% Target attack
+5
Initial Rage 32, Thunder Resistance +8%
+6
Initial Rage 45, Captain skill Lv.4
+7
Normal attack enhances Resistance
+8
Thunder Resistance +8%
+9
Captain skill Lv.8
Gold
Anger effect (15 rage for 2 rounds)
Gold +1
Captain skill Lv.10

Awakened Skills:
Note:
The Ougi reduces attack of the targets by 60%, instead of 80
How to get:
Draw,Consume,Escape from Impel Down (Hard),Impel Down (Freezing 20),Boss Mode (Under the peak)
Bond Partners:


Ad blocker interference detected!
Wikia is a free-to-use site that makes money from advertising. We have a modified experience for viewers using ad blockers

Wikia is not accessible if you've made further modifications. Remove the custom ad blocker rule(s) and the page will load as expected.