Tier: 1      Class: Navigator

  Element:

Talents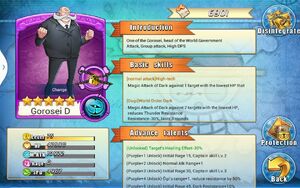 Awakened Skills:
Normal:
Magic Attack of Dark against 2 target with the lowest HP that reduces Thunder Resistance, Target healing effect -30%. Self Purify, remove Buff of enemy.
Ougi: Magic Attack of Dark against 3 targets with the lowest HP, reduces Thunder Resistance. Self Attack +30%, Target Resistance -50%, lasts 3 rounds.
NOTE:
The original text is not exactly like this, but this is what is the truth. His Atk-Boost is overwritten by other ATK-Boosts
How to get:
Recharge event, Honor Store.
Video to his Gold Version:
https://www.youtube.com/watch?v=Xrz7WUU5f5w
Bond Partners:


Ad blocker interference detected!
Wikia is a free-to-use site that makes money from advertising. We have a modified experience for viewers using ad blockers

Wikia is not accessible if you've made further modifications. Remove the custom ad blocker rule(s) and the page will load as expected.