Lucky Box is a system where you can obtain specific Items at random.
There are 3 chests: a golden, a silver and a bronze one.
Each of them contains different items, the best in golden, and the worst in bronze.
You can obtain the keys through either the time-limited challenge or through buying them at treasure island at a quantity of 5(Bronze Key [50 Belly], Silver Key [125 Belly], Golden Key [500 Belly]). You can also exchange keys at Summit Arena shop at a quantity of 1 for 5 times each. (Copper [100 Honor], Silver[200 Honor], Gold[500 Honor])
[NOTE] Some items can be obtained but aren't shown in the rewards section!
Golden Chest:

Silver Chest: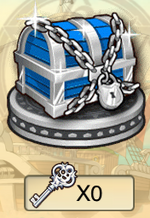 Bronze Chest: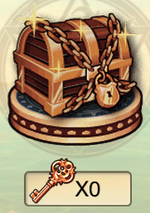 Use them when it's 1.5 exp or at events to have the biggest benefit out of the containing energy.
Ad blocker interference detected!
Wikia is a free-to-use site that makes money from advertising. We have a modified experience for viewers using ad blockers

Wikia is not accessible if you've made further modifications. Remove the custom ad blocker rule(s) and the page will load as expected.