Talents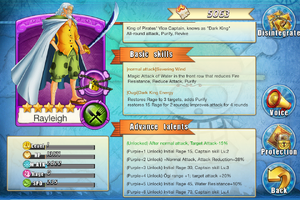 How to get Rayleigh:
Draw,Consume,Treasure Island (12000 points for 5 shards),Escape from Impel Down (Hard), Boss Mode (Assemble! Set off Again!)
Video:
https://www.youtube.com/watch?v=s-gKrXI5w3g
Bond Parters:


Ad blocker interference detected!
Wikia is a free-to-use site that makes money from advertising. We have a modified experience for viewers using ad blockers

Wikia is not accessible if you've made further modifications. Remove the custom ad blocker rule(s) and the page will load as expected.