As requested, here's a page where you can post your team, either with screenshots or just a small text.
Example:
Hello, could you please help me with my team?
I have:
Golden sengoku +1
Gorosei B +2
Kuma +7
Enel +7
Shanks +1
Aokiji +8
Crocodile +6
Marco +6
Christ. Robin +6
Law +5
Akainu +4
Aokiji +5
Jozu +5
Ace +4
Van Auger +4
Blackbeard +3
Whitebeard +1
or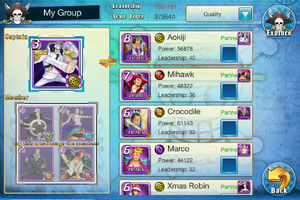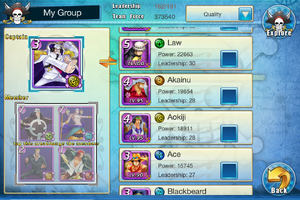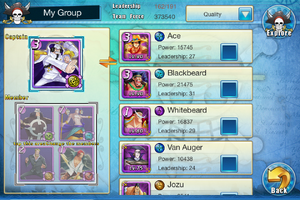 Can you please help me with my team?
(Yeah, yeah, I know, neither Van Auger/Ace/Jozu/Aokiji are on +4/+5, but I got the material!)
So, this is how it should look like. Please be nice.
Ad blocker interference detected!
Wikia is a free-to-use site that makes money from advertising. We have a modified experience for viewers using ad blockers

Wikia is not accessible if you've made further modifications. Remove the custom ad blocker rule(s) and the page will load as expected.