Tier: 2      Class: Sniper

  Element:

Talents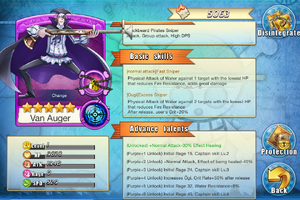 Intro:
Attack, Group Attack, High DPS
Attribute: Water
0%
0%
0%
8%
0%

How to get:
Treasure battle (6000 for 4 shards), draw
Bond Partners



Known Issues / Bugs

Attack-Skills

His normal hit will give him Crit Rate% as well as his ogi does despite his description is not showing this.

Ougi Bug at Evolution +9
Both Enel and Auger Ogi are released in round 9 before their turns to reset their Ougi bars; starting to build up new ogi bar from round 9.
After each of their attacks, ogi bar should build up 25%. For enel, as one would expect, Ougi bar is full in round 12 (4 rounds). However, Van Auger doesn't max Ougi until round 13.


00:52

Ogi Charge bug Van Auger-0
Ad blocker interference detected!
Wikia is a free-to-use site that makes money from advertising. We have a modified experience for viewers using ad blockers

Wikia is not accessible if you've made further modifications. Remove the custom ad blocker rule(s) and the page will load as expected.